Creative mind
Now any artistic creation is a labour of love, drawn or painted with painstaking caution and infinite vision by the artist. Every tiny detail has purpose, every nuance of colour a deeper meaning.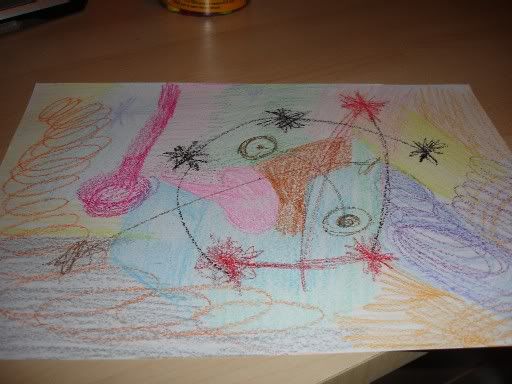 See it? That's a representation of the deepest corner of my mind, my inner most psyche, the most hidden recess of my brain. The colours represent my life - different, ever changing but ever linked. The lines represent the oppression of society and how it knots and weaves throughout my every waking thought. The spirals are the conflicts in my life, the unresolved queries and undulating problems. There is something else in the picture as well, something that everyone should see, bullshit.
It's actually nothing but a scribble I did using a piece of paper from my printer and a pot of 1 year old safe Crayola wax crayons. Pretty ace though isn't it? Had you going didn't i?
There is a point here somewhere….
I'm sure there is.